01-电影概况
01-概要
导演:Mario Bava
原著: Angela Giussani (story) and
Luciana Giussani (story) &
Arduino Maiuri (story) ...

音乐 埃尼奥 莫里康内
国家:Italy | France
公司:Dino de Laurentiis Cinematografica(意大利) Marianne Productions(法国)
别名
Diabolik Italy (original title)
Danger: Diabolik USA
Danger: Diabolik! France
Diabolik Greece
Diabolik - mies mustassa Jaguarissa Finland (TV title)
Diabolik ger ingen n?d Sweden
Gefahr: Diabolik! West Germany
I ekdikisi tou Spaterman Greece (video title)
Mies mustassa Jaguarissa Finland
O Spiderman me ti mavri maska Greece (reissue title)
Perigo: Diabolik Brazil
主要演员

John Phillip Law ... Diabolik
Marisa Mell ... Eva Kant
Michel Piccoli ... Inspector Ginko
Adolfo Celi ... Ralph Valmont
Claudio Gora ... Police Chief
Mario Donen ... Sergeant Danek
Renzo Palmer ... Minister's Assistant
Caterina Boratto ... Lady Clark
Lucia Modugno ... Prostitute

02-剧情简介
Plot Summary : In psychedelic swinging 60s style, the dreaded thief (and killer) Diabolik wreaks havoc on a generic European country for his own financial gain and amusement. He shares an extravagant underground lair (and a giant bed of money) with his curvaceous, superficial girlfriend...who uses her awesome powers of wig-wearing to help Diabolik kill innocent people and steal billions from the government. Nonetheless, Diabolik is the "hero" of the film because he must face off against bumbling cops and revenge-seeking mafiosos. Written by Michael "Rabbit" Hutchison <rabhutch@spacestar.net>

In a generic European country of the late 60's, Diabolik is an anti-hero whose life consists on preparing schemes to steal government money and make a fool of the entire police department. Helped by his gorgeous girlfriend Eva, Diabolik begins by stealing a few dollars, but his duel of wit and audacity with police inspector Ginko will take them both to some extreme consequences. Based on the Italian comic books by sisters Angela and Luciana Giussani. Written by Daniel Poeira (IMDB)

本站简译: 德伯力克是一个可怕的盗贼和杀手.他为了满足个人的财富和挥霍,给欧洲国家带来了严重的灾害. 他和他的形体优美女友共享着一个极尽奢华的地下巢穴,她则帮助他杀害无辜和窃取政府的几十亿财富.虽然如此,德伯力克仍然是电影中的"英雄",因为他必须面对警察的追捕和黑手党的报复,在他和警官金克的斗争中,他富有机智和勇敢.电影是根据意大利安吉拉和基奥萨尼姐妹的著名的漫画书改编拍摄的 (IMDB)
Synopsis for Danger: Diabolik (
IMDB
)
In a nameless European country, Inspector Ginco (Michel Piccoli) takes every precaution to ensure that a $1,000,000 shipment of money reaches a local bank. Despite having decoy armored trucks, the real one containing the money is sidetracked to a marina where a masked career thief, known only as Diabolik (John Phillip Law) steals the whole truck by lifting up by an electric magnet and dropping it into the water, where he dives in and retrieves the money. In a long chase, Diabolik eludes the police by switching cars with his mistress and partner-in-crime, Eva Kant (Marisa Mell) who drives Diabolik back to his hideout, a remote cave in a mountain side which has miles of underground passageways, and their living quarters is a mod of various expensive designed bought with their ill gotten money.

Having heard of the latest robbery by the masked thief, the Minister of the Interior (Terry Thomas) arranges for a press conference. But Diabolik and Eva sneak into the conference disgused as reporters where, using their flash bulbs on their camera, they set off some 'exhilarating gas'. When the Minister informs the press of this latest theft and preaching to the reporters that he is not to be made a fool of, the Minister is reduced to just that when the gas reduces everyone in the room to hysterical laughter, while Diabolik and Eva quietly leave unnoticed.

Following the press conference, Inspector Ginco attempts to resign. But his boss (Claudio Gora) refuses to accept his resignation. Ginco reluctantly agrees to stay on the police force, and is subsequently put in charge of the current plan to put all criminals behind bars. With tireless precision, Ginco and his men clean up the city. Mobsters are put behind bars, and then executed. When a drug den is raided, the jaded hippies and drug addicted are carted off.

Ralph Valmont (Adolfo Celi), the head of a large crime syndicate which is responsible for most of the murders and drug trafficking in the country, learns about the raid on one of his establishments, and makes contact with Inspector Ginco. In exchange for his life, Valmont promises to help Ginco capture Diabolik.

When the visiting British finance minister and his wife are honored at a gala party in a large castle by the beach, the press, encouraged by Ginco, play up the wifes recent acquisition of a rare emerald necklace, which is to be unveiled at the celebration. Ginco knows that Diabolik will not pass up the chance to steal the valuable jewelry, so he and his men lay in wait all around the castle for Diabolik to show up. Diabolik does show up, by scaling the seaside wall of the castle to the living quarters of the finance minister's wife where he steals the necklace, and makes another clever escape by constructing a makeshift catapult, but tricks Gino and the police into thinking he used it to eject himself to safety, when he really hides underneath it and simply walks out of the castle dressed as a policeman.

Meanwhile, Valmont and henchmen recognize Eva at an Esso filling station, and they kidnap her. After making contact with Diabolik though a local newspaper, he promises to hand over the emerald necklace in exchange for Eva. Valmont wants to meet Diabolik aboard his private airplane. The following evening, Diabolik meets with Valmont's henchmen who herd him aboard Valmont's plane which takes off. But it is revealed that this is all part of Ginco's plan for once the plane reaches a destined spot, Valmont is to release a trap door on his plane which will literally drop Diabolik into the inspector's lap. But the plan backfires greatly when Diabolik figures out what is going on and in the subsequent shoot-out aboard the plane, Diabolik frees Eva, and he and Valmont stuggle in which they fall through the trapdoor, but Diabolik leaves behind a bomb which explodes, killing all of Valmont's henchmen. The three of them parachute to safely on the ground near the police rendezvous spot where in a continuation shoot-out, Diabolik kills Valmont by shooting him before apparently committing suicide when Ginco and the police close in on him.

Ginco is saddened by Diabolik's death for he never got the chance to really arrest him. But Diabolik is not dead. During the shoot-out he took a drug which slowed down his heart and matabolsim to the point where he appeared dead. At the mourge, Eva, disguised as a nurse, arrives and administrates the antidote. Diabolik awakens, and kills the coroner before making his escape.

Unaware of Diabolik's most recent escape, Gino is puzzled over the missing emeralds. Upon reading Valmont's death certificate, an idea puzzles him. All totaled, there are eleven emeralds missing. Valmont died form eleven bullet wounds. Ginco realizes that Diabolik is clever enough to use the jewels as bullets, therby proving a very safe hiding place for them. Ginco runs over to the crematorium to inspect Valmont's ashes. Diabolik, disguised as Valmont's elderly brother, has already arrived to lay claim to his brother's ashes. When the morgue attendant begins to scoop the ashes into a urn, he is shocked to find the emeralds. But before he can do anything, Diabolik knocks him out, and makes his escape with the emeralds. As usual, Ginco arrives at the morgue missing Diabolik by a matter of seconds.

With no other alternatives open, the police offer a $1 million rewards to anybody to is able to lead them to Diabolik, Ginco realizes the foolishness of this plan, but his superiors refuse to listen him because of his string of bad luck in trying to catch Diabolik. Soon after, Diabolik sends a note to the government saying: "in view of the bad use of the government is making of the public's money, I shall take steps to remove it from circulation." In a matter of days, he blows up all tax offices, federal banks, and treasury buildings to smithereens. The former Minister of the Interior, now working as the Minister of Finance, makes another comic appearance on television where he reveals that with the destruction of the tax offices, the tax records of all citizens have been destroyed. He employs everybody to come forward voluntarily and pay the tax they think they owe. His speech elicts nothing but more laughter from the TV viewers.

With the government now strapped for money, Ginco decides to put one last plan into action. He has the entire gold reserve melted down into a 20-ton ingot so that it can make up for the lost taxes. Yet he realizes that Diabolik is going to attempt to steal it too. Rather than be outwitted again, Ginco has the container of the gold partially 'radio activated'. In this way, once it is stolen, he will he able to use radioactive detectors to lead them to Diabolik's hideout, and leading him to all of Diabolik's stolen goods.

The next day, the ingot is duly stolen by Diabolik who sabatoges the train carrying it by blowing up a railroad bridge, in which the railroad car containing the large ingot falls into the river. Diabolik and Eve, donning wet suites, then use inflatable underwater balloons to transport the large container though an underwater passage to their hideout.

At Diabolik's hideout, he dons a protective heat suit and plans to melt down the gold into gold bricks. But as he's doing so, Ginco and his men follow their radiation tracker devices to the underground lair and make their entry. For the first time, Diabolik is caught off-guard by the advancing police, but not entirely unprepared as he decides to flood the entire cavern therby destroying himself and everyone in it. But unaware that the ingot container is partly radioactive, Diabolik leaves his electric drill on the container in which the extreme heat from the drill makes the container glow red hot. Just as Diabolik is about to pull a lever to flood the cavern, the container explodes, showering him in molten gold.

The police are finally delighted to have finally disposed of Diabolik, and allow reporters and the public into Diabolik's cave to put on display Diabolik. But Ginco is not at all pleased by the decision to display the body, which now is a picturesque gold statue for the general public. The police and workers begin to haul all the stolen appliances and loot out of the cave. Later when the cavern is now deserted and empty, Eva, who had earlier fled at Diabolik's instance, comes out wearing a black funeral dress to play her respects to her lover. Ginco appears and places Eva under arrest, but allows her for a few minutes alone with the body. When Ginco leaves for a minute, a distraught Eva catches sight of Diabolik's still exposed left eye. Amazingly, it winks at her. The protective suit he is wearing has prevented him from being burned alive, though he is now trapped in his gold shell. The inspector arrives to take her away. Soon after they leave, a diabolical laugh rings out in the dark, empty cave.
在一个无名的欧洲国家,督察Ginco(米歇尔皮科利)采取一切预防措施,以确保1,000,000美元的现金运送到当地的银行。尽管有装甲卡车诱饵,真正的钱是一个包含牵制到一个码头在一蒙面职业小偷,只知道作为Diabolik(约翰菲利普法)抢断解除了由电磁铁和投进水中,整个卡车,他在那里潜水和检索的钱。在长期的追逐,Diabolik和合作伙伴与他的情妇伊娃康德(马里萨梅尔)躲过追捕,他们驱车回到了他的藏身之处,在一个山边的地下通道里有车的警察偏远山洞,他们的住处是各种昂贵的设计。内政部(特里托马斯)部长安排了记者招待会。但Diabolik和伊娃在那里当记者,他们使用自己的相机闪光灯偷袭会议,他们设置了一些'令人振奋的气体'。当部长通报了这一最新新闻和说教盗窃对记者说,他是不能做了傻瓜,部长是减少到了,当气体减少每个人在房间里歇斯底里的笑声,而Diabolik和伊娃悄然离开被忽视。新闻发布会后,督察Ginco试图辞职。但是,他的老板(克劳迪奥戈拉)拒绝接受他的辞呈。 Ginco勉强同意留在警察部队,并随后在目前的计划将所有罪犯身陷囹圄,负责。随着不懈的精度,Ginco和他的手下清理城市。暴徒是被判刑,然后执行。当是毒窟捣破,嬉皮士的疲惫和毒品上瘾是被运走。

拉尔夫瓦尔蒙特(阿道夫塞利),一个大型犯罪集团,这对于谋杀和该国的毒品贩运最负责任的头,就会学到更多的关于他的机构之一搜查,并提出与督察Ginco接触。在他的生命交换,瓦尔蒙特承诺帮助Ginco捕捉Diabolik。

当来访的英国财政大臣和他的妻子很荣幸在联欢会在一个大城堡,海滩,新闻界的Ginco鼓舞,发挥了妻子的一个罕见的祖母绿项链,这是将在近期收购庆祝揭幕。 Ginco知道Diabolik不会放过机会窃取有价值的珠宝,所以他和他的部下在于各地的Diabolik城堡等待出现。 Diabolik确实显示,通过扩展城堡的海边壁财务大臣的妻子,他偷走了项链,生活区,使通过建立一个临时弹射另一个聪明的逃跑,但过关吉诺和警察,以为他用它弹出自己的安全,当他真的下它隐藏,只是走出了作为一名警察装扮的城堡。同时,瓦尔蒙特和党羽承认伊娃在一埃索加油站,他们绑架了她。接触后,与Diabolik虽然当地报纸,他承诺交出的伊娃交换翡翠项链。瓦尔蒙特要满足乘坐他的私人飞机Diabolik。第二天晚上,Diabolik会见瓦尔蒙特的党羽谁畜群登上瓦尔蒙特的飞机,起飞了。但我们发现,这是所有Ginco的计划的一部分,一旦飞机到达一个注定现场,瓦尔蒙特是释放他的飞机将在字面上拖放到督察的一个圈套圈Diabolik门。但事与愿违,极大地计划时Diabolik数字出是怎么回事,并在随后的枪战机上进行,Diabolik释放伊娃,他和瓦尔蒙特stuggle他们在通过陷门下降,但Diabolik后面炸弹爆炸叶,杀害瓦尔蒙特的党羽所有。他们三个降落伞安全地附近的警察聚集在现场地面的地方继续拍摄一出,Diabolik杀死瓦尔蒙特枪决他自杀前显然当Ginco和警方密切的他。

Ginco是Diabolik的死感到难过,因为他从来没有机会真正逮捕他。但Diabolik没有死。在拍摄过程中出他用药,减缓他的心,matabolsim,以至于他出现死亡。在穆尔热,伊娃,伪装成护士,到达和行政管理方式的解毒剂。 Diabolik唤醒,并导致他逃脱之前,死因裁判官......(如果需要,您可以自行在Google在线翻译分段翻译全文)
03-观众评论
可以想见看惯现在一些花钱堆砌特技如同米饭上洒酱油的电影后,原本就不怎么执著的,所谓"另类电影"影迷们会怎样对那些昔日的宝藏敬而远之。而即便拿来和同时代的作品比较,当年意大利异色导演们拍摄的作品确实也穷酸气十足。但偶有例外,就如Mario Bava于派拉蒙拍摄的<Diabolik>。那是1968年,当时影片预算300万美元,虽然最终耗资仅40万美元却也已足够排场。结果不负众望,这部改编自漫画的,描写江洋大盗Diabolik及女友Eva的动作轻喜剧相当具有娱乐性和观赏性,算是证明了Bava不仅仅只有搬弄鬼怪和描写凶杀的把戏。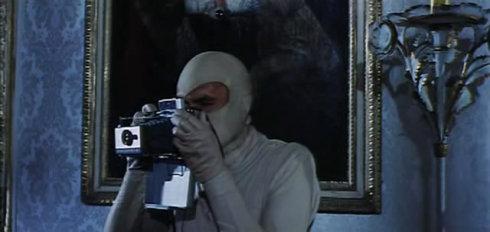 一般个人英雄主义色彩的作品离不开好的脚本,作为电影来说还需要加上到位的拍摄。就拍摄来说,对于剧中直升机追踪车辆、蛙人潜水等等高成本摄影的投入,Bava是不惜余力。虽然那些镜头早已经不起时代的挑剔,但Bava这位镜头前的魔术师还是向观众展示了他的全部智慧。序幕中双方在烟雾弹中对峙的场面不比战争场面的肃杀,细看之下,如何在硝烟弥漫中使得警匪双方互打照面似乎才是Bava所思。另一幕中,目击者通过仪器描绘Eva外貌的场景中还动用了少量的特技镜头,可谓神来之笔。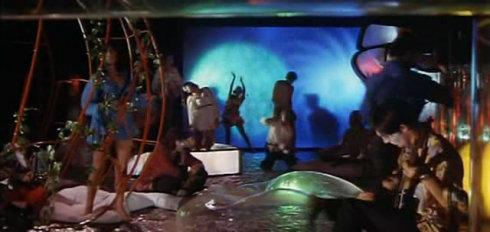 作为轻喜剧,不少场景令人捧腹不禁,如缺颗门牙的警察局长在演讲时未料被主人公放了一氧化二氮,在这笑气的作用下会场乱成一团;为了给Eva献上生日礼物,Diabolik利用照片作监控画面,成功偏过了警卫后盗走了意大利大使夫人的11枚绿宝石;眼见与警方对峙吃亏,在选择诈尸计并成功后,在Eva的配合下Diabolik化装成瘸子,夹着自己"骨灰盒"出逃……等等。
在幽默之外,片中对于雌雄大盗Diabolik、Eva在警方及黑帮的众目睽睽下招摇行窃之余仍不忘缠绵悱恻的描写,在整体明快轻松的基调下显得驾轻就熟。在诱惑人的独立浴室内各自沐浴;在美元中翻云覆雨;抑或是在蜗牛式的泳池中一块块将钻石放置在女友身上,继而相拥下潜的浪漫场面,等等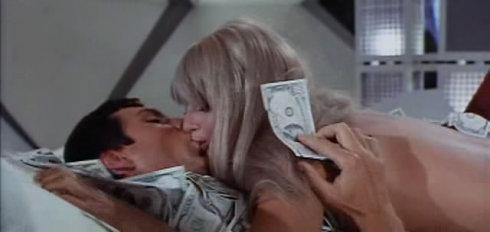 同时扑面而来的科幻气息也与银幕上这对漂亮演员的表演相得益彰。除却主人公的"官邸",一些道具,直升机、潜水艇,乃至假死药、烟雾弹的出现毫无疑问是在"007"的风潮下更加科技化的想象。这些可称为后现代式的场景,在天才配乐师恩尼·莫利康奈的帮助下仿佛具象化的梦境。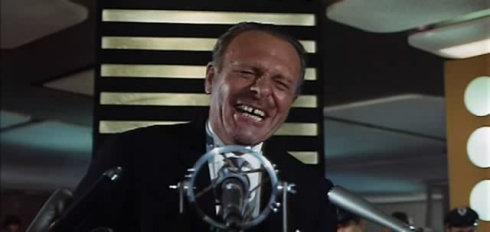 最后话说回来,尽管这部作品在Mario Bava的传奇生涯中如此特别,但无论影片诞生于如何的背景,有一些东西终究是属于Bava的,属于意大利异色电影的。就比方那共通的,无法被模仿的演员气质;或是那些属于反叛精神/摇滚乐/非主流文化的,如片中对于俱乐部中嬉皮士/瘾君子们的描绘,八个字形容:声色犬马、光怪陆离。确实很少有他国的影片能够相提并论,即便偶有之,怕也同是一衣带水的地中海近邻吧。